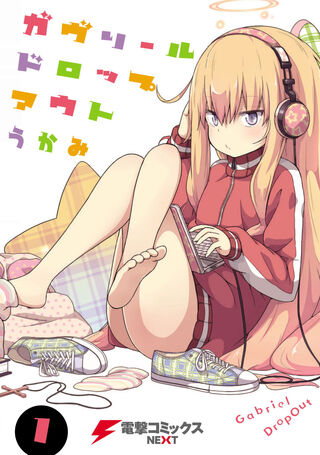 Gabriel Dropout
(
ガヴリールドロップアウト,
Gavurīru Doroppuauto
) is a manga series both written and illustrated by Ukami. This series had begun serialization though Dengeki Daioh G magazine in December 2013, published by ASCII Media Works. 
As of March 5, 2017 there are exactly 4 volumes released only in Japanese, and an additional 9 chapters not in volume format, totalling at 36 chapters. Also to date, no other publishers have officially translated this series.
Plot
Gabriel White graduated at the top of the class at angel school and attends a human school on earth in pursuit of knowledge, but then gets engrossed in a web game and decides its too much trouble to go anywhere.
Chapters and volumes
List of Gabriel Dropout Chapters and Volumes
Reception
Sources
Ad blocker interference detected!
Wikia is a free-to-use site that makes money from advertising. We have a modified experience for viewers using ad blockers

Wikia is not accessible if you've made further modifications. Remove the custom ad blocker rule(s) and the page will load as expected.